Description
DO YOU LIKE TOWELS? So do we. We've been trying to find decent cotton towels in Monstrously Huge for a while, and sure enough, Printful started stocking 210cm absolute monsters. So we made towels for ourselves, and then you know, decided to share. I CAN'T STRESS ENOUGH HOW BIG THE BIG ONES ARE SO I MADE AN IMAGE: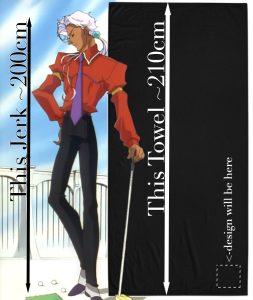 This listing is for the stained glass rose crest that sits above the Student Council balcony. It uses negative space to make the design, and it's Vanna's (my) favorite one. I've designed it for black, but it doesn't look terrible in white, and y'all can do you. 🙂
Given we've never done anything like this, we wanted to use them for a while before selling. As you can see by the cat hair, done and done. There's a neato little loop for hanging, and the embroidery is holding up just fine! We've been using them for a couple months now. Other sizes and colors we haven't tested, but should be just fine!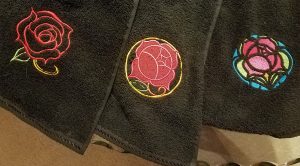 ---
This premium towel is made from a high-quality absorbent fabric and will last a long time, whether you use it at home, or by the beach. It's made from 100% combed Turkish cotton that's extra soft and fluffy.
• 100% combed Turkish cotton
• Fabric weight: oversized weighs 13.3 oz/yd² (450 g/m²), bath and hand towels weigh 14.7 oz/yd² (500 g/m²)
• Absorbent fabric
• Made extra soft with the new AirJet Technology
• Pre-shrunk for additional durability
• Decorative shiny woven motif on both ends
• Sizes: oversized is 39.4″ × 82.7″ (100 × 210 cm), bath is 27.6″ × 55.1″ (70 × 140 cm), and hand towel is 19.7″ × 39.4″ (50 × 100 cm)
• Suitable for indoor and outdoor use
• Blank product sourced from Turkey