Description
DO YOU LIKE TOWELS? So do we. We've been trying to find decent cotton towels in Monstrously Huge for a while, and sure enough, Printful started stocking 210cm absolute monsters. So we made towels for ourselves, and then you know, decided to share. I CAN'T STRESS ENOUGH HOW BIG THE BIG ONES ARE SO I MADE AN IMAGE: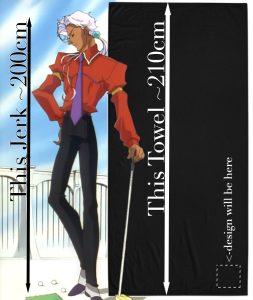 This listing is for the rose crest pattern in the middle of the bottom image, however it is solid white and only the lining for a bit of a different look! The rose is NOT filled in on this one.
Given we've never done anything like this, we wanted to use them for a while before selling. As you can see by the cat hair, done and done. There's a neato little loop for hanging, and the embroidery is holding up just fine! We've been using them for a couple months now. Other sizes and colors we haven't tested, but should be just fine!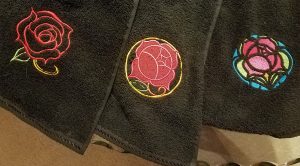 ---
This premium towel is made from a high-quality absorbent fabric and will last a long time, whether you use it at home, or by the beach. It's made from 100% combed Turkish cotton that's extra soft and fluffy.
• 100% combed Turkish cotton
• Fabric weight: oversized weighs 13.3 oz/yd² (450 g/m²), bath and hand towels weigh 14.7 oz/yd² (500 g/m²)
• Absorbent fabric
• Made extra soft with the new AirJet Technology
• Pre-shrunk for additional durability
• Decorative shiny woven motif on both ends
• Sizes: oversized is 39.4″ × 82.7″ (100 × 210 cm), bath is 27.6″ × 55.1″ (70 × 140 cm), and hand towel is 19.7″ × 39.4″ (50 × 100 cm)
• Suitable for indoor and outdoor use
• Blank product sourced from Turkey